Friends of Kootenay Blog
Access stories and photos about the natural and human history of Kootenay National Park and Columbia Valley Includes highlights about the Friends of Kootenay National Park activities and programs.
Blogs
Posted: October 5, 2018
Despite the raging forest fires and highway closures that hit our park this year, the Junior Naturalist Program had a great summer! We had 32 kids from different provinces (and countries!) participate in the program this year. Read more »
Posted: September 16, 2018
President
Alex Goatcher
Vice-President
Vacant
Secretary
Lindsay Torma
Treasurer
Dale Genest
Gift Shop Manager
Vivian Genest
Directors
Barry Moore
Andree Galbraith
Natalie Wallace Read more »
Posted: August 6, 2018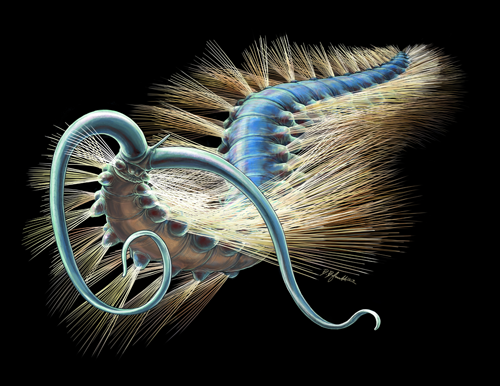 Kootenayscolex barbarensis
Researchers at the Royal Ontario Museum and the University of Toronto have described an exceptionally well-preserved new fossil species of bristle worm called Kootenayscolex barbarensis. Discovered from the 508-million-year-old Marble Canyon fossil site in the Burgess Shale in Kootenay National Park, British Columbia, the new species helps rewrite our understanding of the origin of the head in annelids, a highly diverse group of animals which includes today's leeches and earthworms. Read more »
Posted: May 19, 2015

Black bear using one the new wildlife underpasses in Kootenay National Park - Photo by Parks Canada.
Posted: April 12, 2015

Triangle covers and plastic pink Flamingos are used by BC Hydro 
to prevent Ospreys
from nesting on dangerous power poles - by Larry Halverson Read more »
Posted: April 11, 2015

April10, 2015 - Osprey on nesting platform, Dorothy Lake, Invermere,BC - by Larry Halverson
Osprey nesting in this region return from their wintering areas around mid-April when the valley lakes are free of ice. Some early arrival dates include April 3 at Columbia Lake and April 4 at Invermere, BC. Read more »
Posted: April 6, 2015
The theme for the 19th annual Wings Over the Rockies Festival is "Fossils and Feathers", inspired by the recent exceptional find of a fossil bed of significant importance in the Kootenay National Park.This year includes a full week of more than 90 field trips, presentation and workshops. Details at http://www.wingsovertherockies.org/ Read more »
Posted: April 3, 2015


Easter Daisy (Townsendia hookeri) in bloom April 2, 2015 by Larry Halverson
EASTER-DAISY is just on time this year. In fact it is the earliest bloom date we have recorded for the Columbia Valley.The daisy like flower looks like it has no stem as it grows very low to the ground, seldom more than 4 cm high. Read more »
Posted: April 2, 2015

Yawunki kootenayi, artistic reconstruction model by Lars Field (Phlesh Bubble)

508 million-year-old predatory 'lobster' has been discovered in Canada that held a "key position" in the food network at the time. Yawunik kootenayi had two pairs of eyes and prominent grasping appendages resembling those seen on modern beetles or shrimps. Read more »